Home link
Home link
Half-Term at One Garden Brighton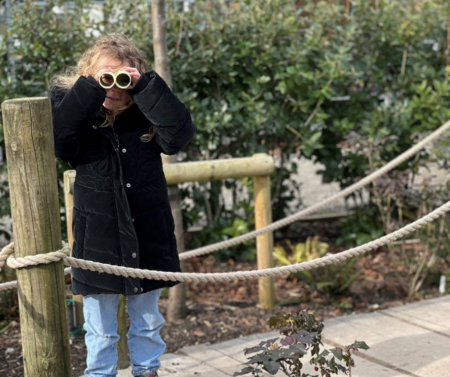 It's February Half-Term at One Garden Brighton
Come and explore the walled garden and see the change of the show gardens as they transition into the next season, Spring. Spot new life in the winter beds with new shoots and listen out for the birds singing in the trees. This February half-term we want to inspire you and your family to get outside and explore what's around you.
Become a Nature Explorer
Pick up a free activity pack and become a nature explorer. Search amongst our nine show gardens for hidden creatures and beautiful plants, and get lost in the walled garden whilst taking in the fresh air! Within the free activity pack, help Sonny the Squirrel escape the walled garden in the activity maze and discover the nature words in the walled garden word search. Plus, become a pro bird spotter by looking up high, with your nature finding binoculars, to spot all the birds within the walled garden and Stanmer Park, how many will you spot?
Get creative with our horticulture and nature activities at One Market, or try them out at home.
Wildflower Seed Stars - using recycled paper, which was kindly donated by Pro Landscaper magazine, stick a selection of bee-friendly wildflower seeds to create a star and plant it on a sunny windowsill. Soon you will see new forms of life and dainty and colourful flowers appear.
Nature Finding Binoculars - re-use your toilet roll tubes and draw and cover with patterns or stick on leaves from Stanmer Woods, and attach with our camouflage paper washi tape to create your very own nature finding binoculars. Perfect for some bird spotting.
Each activity at One Market costs £1, or you can take a guide away with you to try at home for free.
Whilst on your visit to One Garden Brighton this half-term why not pop in to One Kitchen and try our seasonal soup or stew, and finish with a slice of mouth-watering cake and a cup of Red Roaster coffee. One Kitchen is open 10am until 4pm daily. One Market has a pop-up inside One Kitchen until March, discover a range of produce from local Brighton and Sussex-based businesses, plus we have a new range of horticulture and well-being books to delve into and gain inspiration from your visit.
One Garden Brighton is open every day during half-term, 10am until 4pm and our activity sessions run daily until 23.02, 10am until 1pm. There is no need to book, just turn up and join in.
One Garden Brighton is proudly managed by Plumpton College, to take your horticulture passion to the next stage and find out how you can learn within the walled garden, visit plumpton.ac.uk. Or, fancy volunteering with our garden and events teams? Register your interest here to be a part of our next cohort of volunteers starting on 25th April.